Welcome to the ticket shop
of Solar Tech Event
Order tickets for our events and festivals from the comfort of your home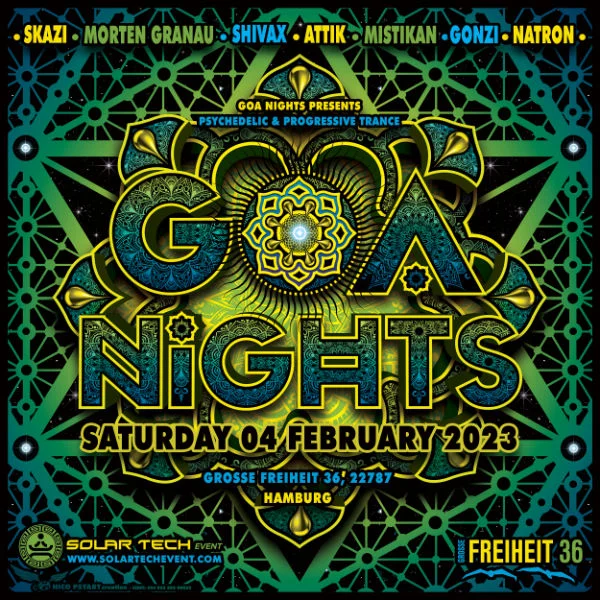 With the event series Goa Nights we present you dance events of the extra class. The celebrations will take place in the large dance temple, where beautiful decorations, a D&B sound system and international top DJs with the best psychedelic & progressive trance await you. Be ready for an unforgettable night with an exciting line-up. If you secure your ticket in advance, you will certainly save yourself waiting in line.
Demand is high, get your ticket today.
We are looking forward to welcome you!

From 18 years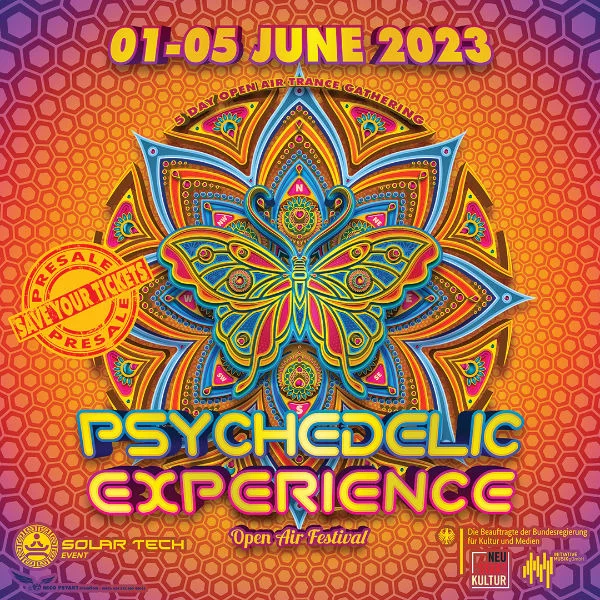 Kick-off for an unforgettable festival season 2023

As every year we will welcome summer 2023 at the Psychedelic Experience Festival in a legendary way – on 01st June 2023 the festival starts and again there will be thousands of freaks from many different countries to celebrate with us. We will finally leave the cold winter behind us and launch into the outdoor season. Of course we will present a high-class line-up with top artists from all over the world to you. Additionally the visions of our many deco teams will take you to new spheres, to forget the daily routine and dance with a smile on your lips towards summer 2023. You may be thrilled, because friends of moon and sun will be will dance here to the sounds of music through 4 nights and 5 days. Needless to say that there will also be an our Ambient Garden arranged with lots of fascinating detail.

Everyone, who needs a break to chill between dancing or want to chat, is here at the right place. For those of you, who would like to compare the festival trip with some more holidays, there are numerous prospects in the "State of 2033 lakes". The upcoming summer is i.e. perfect for hiking, camping, canoeing, swimming, mountain bike tours and fishing.
We are excited to welcome You!
With psychedelic power, we start the intergalactic Intact Expanda winter edition on the 4th of March 2023! Snow, ice and grey winter slush will stay outside for sure! For thousands of guests, a colourful psychedelic journey through warming worlds of sounds will start inside the event location Große Freiheit 36 in Hamburg. The intergalactic Intact Expanda winter event attracts meanwhile fellow travellers from several different countries. Take off! Lose yourself in the intergalactic game of surreal decoration elements and driving sounds! Dance into a new day! Feel the UV Bodypainting colour on your skin! Experience the movements of your imagination! On three stages and in the chill area of the event location, the decoration teams, visuals, projections and video animations will challenge your fantasy. Make the winter more colourful – united in trance and dance! Immerse into the rhythm of a special night! The ticket sale has started!

We are looking forward to an intergalactic Intact Expanda with you!

Your Intact Team